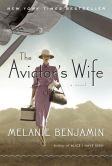 Historical fiction is a great way to learn about events, much more so that reading out of a history book. It truly assists you in relating to this historical persona; allowing insight into their emotions and personalities. If the novel is accurately written, you gain the desire to delve into the history itself, to study more and understand the lives they lead....The Aviator's Wife is such a novel.
You could have put my "Lindbergh" knowledge in a thimble before reading this fabulous book. 1. He flew the Spirit of St. Louis in a transatlantic flight. 2. Their first child was kidnapped and murdered. Wow! That is so embarrassing to admit.
This couple accomplished so much as both individuals and as a team, that it is incomprehensible, and yet I don't remember once ever hearing of these achievements.
Anne is such a strong woman and yet this reveals her weaknesses in a very humble way. I appreciated the candid view of a life full of achievement, but also of loss. It is sad to think that someone had to live a life with no freedom, to live their life without constant scrutiny and bombardment from the press. They were shameless!!!
Since finishing this book last night, I began reading "Gift from the Sea" by Anne Morrow Lindbergh. I wanted to read something in her words, just to hear her voice a little longer. In the near future, I will read "Lindbergh" from Scott Berg. I want to get a perspective of Charles' view on his life events.
I'm not going to give you a breakdown on every aspect of this book. You need to read it for yourself...it is a journey well worth the flight.
SYNOPSIS by Barnes & Noble
For much of her life, Anne Morrow, the shy daughter of the U.S. ambassador to Mexico, has stood in the shadows of those around her, including her millionaire father and vibrant older sister, who often steals the spotlight. Then Anne, a college senior with hidden literary aspirations, travels to Mexico City to spend Christmas with her family. There she meets Colonel Charles Lindbergh, fresh off his celebrated 1927 solo flight across the Atlantic. Enthralled by Charles's assurance and fame, Anne is certain the celebrated aviator has scarcely noticed her. But she is wrong.
Charles sees in Anne a kindred spirit, a fellow adventurer, and her world will be changed forever. The two marry in a headline-making wedding. Hounded by adoring crowds and hunted by an insatiable press, Charles shields himself and his new bride from prying eyes, leaving Anne to feel her life falling back into the shadows. In the years that follow, despite her own major achievements—she becomes the first licensed female glider pilot in the United States—Anne is viewed merely as the aviator's wife. The fairy-tale life she once longed for will bring heartbreak and hardships, ultimately pushing her to reconcile her need for love and her desire for independence, and to embrace, at last, life's infinite possibilities for change and happiness.
Drawing on the rich history of the twentieth century—from the late twenties to the mid-sixties—and featuring cameos from such notable characters as Joseph Kennedy and Amelia Earhart, The Aviator's Wife is a vividly imagined novel of a complicated marriage—revealing both its dizzying highs and its devastating lows. With stunning power and grace, Melanie Benjamin provides new insight into what made this remarkable relationship endure.
RATING - 4 1/2 STARS - LOVED IT!