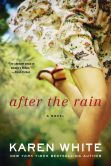 As soon as I finished Karen White's novel, Falling Home, I picked up After The Rain. I could not wait to continue the story. Unfortunately, I was somewhat disappointed. Don't get me wrong, this is still a good book but not as good as Falling Home. Part of me really wanted Sam and Cassie's story to continue, and in a way it did, it just was not the focus of this novel.
After The Rain picks up three years after Harriet's death. Joe is trying to pick up the pieces for not only him but also for his six children. This story can be heartbreaking at times but also hopeful. Life does go on for the living.
Ms. Lena cracks me up with her romance novels and her comments on sex, as only any 80 something woman could do. Hilarious at times, you just laugh out loud.
I found that this book was sometimes repetitive and lost a bit of its luster for me but all in all I did like the book.
SYNOPSIS by Barnes & Noble
From "one of the best new writers on the scene today" (The Huffington Post) comes the sequel to Falling Home, a novel set in the picaresque town of Walton, Georgia, where one woman is about to discover that the best journey is the one that brings you home.…
Freelance photographer Suzanne Paris has been on her own since she was fourteen—and she has no intention of settling down, especially not in a tiny town like Walton, Georgia. She's here to hide out for a little while, not to form connections. Her survival depends on her ability to slip in and out of people's lives, on never staying in one place for too long.
But no one in Walton plans on making things easy for Suzanne. For one thing, it's a town where everyone knows everyone else—and they all seem intent on making Suzanne feel right at home. For another, Suzanne can't help but feel drawn to this tight-knit community—or to the town's mayor, Joe Warner, and his six kids. But Suzanne can't afford to stick around, even if she's finally found a place where she belongs. Because someone is looking for her—someone who won't stop until her life is destroyed…
RATING - 3 STARS - I Liked It!