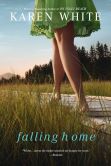 I cannot put my finger on exactly why I love Karen White's writing, but I do. Maybe it's that she so reflects problems of ever day life and the hope that we can over come them.
Falling Home is a perfect example. Although Cassie can be a "B" at times, I can certainly understand her pain and the reason she fled from home. It is not that the North is Bad and the South is Good, (as some reviews indicate), it is that she had more of an opportunity to be obscure in such a large city versus a small country town. Home is home, whether it is in New York, New York or in Walton, Georgia.
Once again, I loved Ms. White's characters and the Southern charm that she brought to the story. She so well reflects the good and the "not so good" of living in small town America. This is a book that covers topics of forgiveness, redemption, death, breast cancer, love and belonging. Be ready to laugh with a box of Kleenex in your lap because your tears will fall.
I had only one regret when I was turning the page for the last time, and that was that the last two or three chapters jumped ahead a year or two. There were some critical, (for me anyway), events that I wish had been revealed. Oh well, I guess I'll leave it up to myimagination. :)
SYNOPSIS by Barnes & Noble
Revised and expanded for this new trade paperback edition, Karen White's novel tells a poignant story of two estranged sisters. At twenty Cassie Madison left her hometown of Walton, Georgia, for New York City, where she has reinvented herself-from losing herself in her career to squashing her accent. But one night a single phone call brings back everything she's tried to forget. She hasn't spoken to her sister since Harriet stole Cassie's fiancé and married him. But now Harriet's on the line with news that their father is dying.
As she makes the trip back, the only thing that frightens Cassie more than losing her father is seeing Harriet and the family that should have been hers. But she can't help loving her nephews and nieces any more than she can help feeling at home again in Walton. As she fights a surprising reaction to a forgotten friend, and faces an unexpected threat to the family she'd once left behind, Cassie comes to realize that moving on doesn't always mean moving away from who you are.

RATING - 4 STARS - I Loved It!