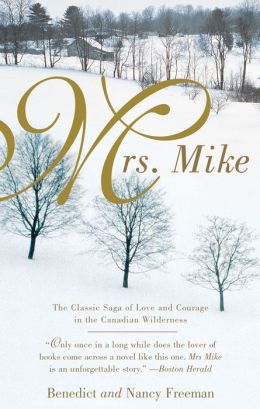 Mrs. Mike was chosen for the Lit-Chix's Classic read for 2013. I was excited to read this book due to the amazing reviews and personal recommendations. It is a love story, one that by today's standards would have never lasted.
It is well written but at some points very slow. It felt as though the story was historically accurate and during those slow times it was probably very much so for the characters living it. The courage that it would take for a young, Boston girl to traverse to the wild, frigid frontier is somewhat unrealistic but never say never.
I did learn some about the Indian customs and the frontiers way of life and found it to be very interesting.
SYNOPSIS by Barnes & Noble
A classic tale that has enchanted millions of readers worldwide, Mrs. Mike brings the fierce, stunning landscape of the Great North to life—and masterfully evokes the tender, touching moments that bring a man and a woman together forever.
Recently arrived in Calgary, Alberta after a long, hard journey from Boston, sixteen-year-old Katherine Mary O'Fallon never imagined that she could lose her heart so easily—or so completely. Standing over six feet tall, with "eyes so blue you could swim in them," Mike Flannigan is a well-respected sergeant in the Canadian Mounted Police—and a man of great courage, kindness, and humor. Together, he and his beloved Kathy manage to live a good, honest life in this harsh, unforgiving land—and find strength in a love as beautiful and compelling as the wilderness around them…
Mrs. Mike is the love story of Katherine Mary O'Fallon, a young Irish girl from Boston, and Sergeant Mike Flannigan of the Canadian Mounted Police, who is a priest, doctor and magistrate to all in the great Canadian wilderness area under his supervision. Recommended by Library Journal.
RATING - 3 STARS - I Liked It